Restore Hair Naturally | Innovative Hair Regrowth Treatment
Don't let hair loss lower your self-esteem! Look no further than our effective hair restoration treatment that restores hair fast.
Regain Control of Your Hair Loss Today
Our hair regrowth specialists will first examine your hair and scalp conditions, review your diet, medical and hair loss history. This helps us develop a personalized hair loss treatment plan and track your progress accurately.
We use Eclipse MicroPen – a Health Canada approved, top-of-the-line microneedling device – to apply effective AnteAGE® hair solution that'll help restore your healthy hair growth. Our 5-session hair restoration package comes with a free AnteAGE Hair System.
Book Free Hair Regrowth Consultation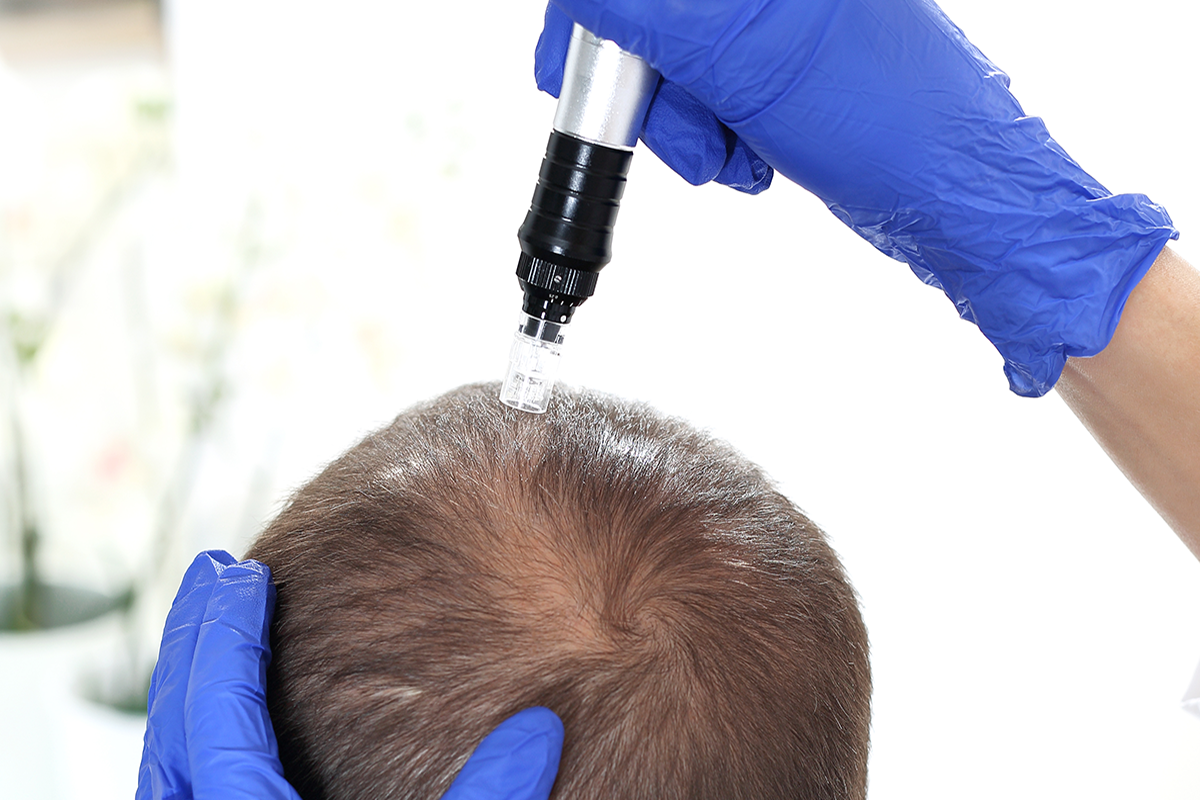 How AnteAGE Hair Regrowth System Works
Looking for ways on how to grow hair back? AnteAGE is best hair growth serum that has revolutionized the hair restoration industry. This proprietary system consists of in-clinic treatments coupled up with topical lotions to bring back fuller, thicker, and healthier hair.
AnteAGE is formulated to stimulate the sleeping cells in the hair follicles and enhance hair growth. This is a natural hair loss system that eliminates the risks of health side effects. It contains medical-grade stem growth factors and cytokines coupled with a cocktail of natural stimulants to trigger hair growth.
Non-Surgical Hair Growth Treatments by Hair Loss Specialists
From consultation to the treatment room, Vita Felice Medi Spa is made up of hair loss specialists who take your hair treatment seriously. Our professionals ensure you get unmatched services in Metro Vancouver and its environs.
We understand you may experience anxiety when coming in for a hair regrowth treatment. Our specialists will guide you through the entire treatment process. Additionally, we use state-of-the-art technology to guarantee your safety and comfort.
Boost Your Confidence with Our Hair Regrowth Treatment Services
Looking for ways on how to fix receding hairline? Searching for a permanent and natural hair growth solution?
At Vita Felice Medi Spa, we offer the best hair regrowth for men and women in New Westminster and service clients from all over Vancouver, Surrey, Burnaby and beyond. Contact us today at (778) 987-5480.
5-session package| $1875 +
*Consultation is required.

Schedule a Free Appointment Now
SAVING TIME FROM
THE ROUTINE TASK
RESTORE YOUTHFULNESS
& REGAIN CONFIDENCE